6 Post(s) Found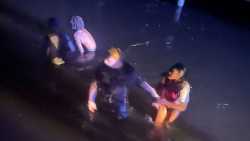 Sunday 2:30 am a car drove off a boat launch and into the Pascagoula River in Moss Point, Mississppi, because the driver was following GPS and didn't realize she was going into the water. The car, with 3 teenage girls inside, floated about 20 feet away from shore and started sinking."They drove straight under the water," 16-year-old Corion Evans told WLOX. "Like, only a little...
[ Read More... ]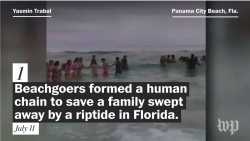 Panama City Beach, Florida, a bunch of heroes:There was no lifeguard on duty, and law enforcement on the scene had opted to wait for a rescue boat. People on the beach had no rescue equipment, only boogie boards, surf boards and their arms and legs."Form a human chain!" they started shouting. ..."That's when the chain got the biggest," Ursrey said. "They...
[ Read More... ]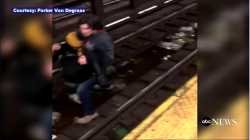 Hero in the subway station in Manhattan:Jonathan Kulig, an engineer for utility company ConEdison, was in the middle of his commute at a New York City subway station when he heard a commotion and soon realized that a man fell onto the subway tracks.Jumping from the platform at the L train's Third Avenue Station in Manhattan, Kulig was able to carry the man from the middle of the tracks and...
[ Read More... ]
Baton Rouge, Louisiana: Three men drive their boat up to a submerged convertible in the Louisiana deep flood waters, the woman screaming she is drowning. They work to break the car window, and the car is continuing to sink. Boat passenger David Phung jumps out of the boat and onto her car and into the water, grabbing her and pulling her out of her car. The woman is distraught over her...
[ Read More... ]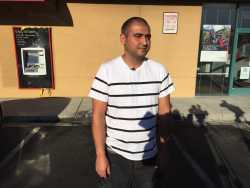 In a shopping center parking lot in Cupertino, California, a Santa Clara man rescues a man from a burning car, putting his life on the line to save a life:Aram Harutyunya realized the seriousness of the situation just a few yards ahead of him, while others moved away from the burning car, he never stopped moving towards it.Then with one swift move, Harutyunya grabbed the man behind the wheel,...
[ Read More... ]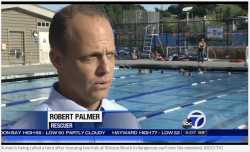 ABC News story on beach rescue by water polo coach/expert swimmer and good samaritan Robert Palmer, right on time to help boy and sister:STINSON BEACH, Calif. (KGO) --Rough waves triggered a record number of rescues at Stinson Beach in Marin County over the weekend. One rescuer was just enjoying his day at the beach, now he's being called a hero.There were 17 rescues at the beach -- 10 on Sunday,...
[ Read More... ]