6 Post(s) Found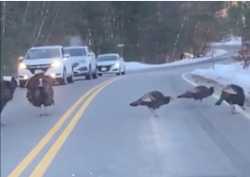 This awesome turkey stopped traffic in Litchfield, New Hamshire, on March 14 to help the other turkeys cross the road safely. The turkey waited in the middle of the two-lane road until all have passed by, folllowing the last one in the group to the other side of the road.Watch the video here by New Hampshire resident Donald Pomerleau, from his car on Pinecrest road.It looks like it's a male...
[ Read More... ]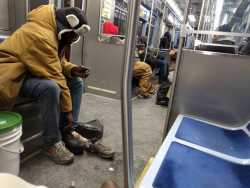 Like the saying goes with 'shirt off the back', Chicago native Maurice Anderson gave the boots off his feet to a homeless man in need on the train. Another passenger on the train, Jessica Bell, shared the moment of his act of kindness on Facebook:Jessica Bell added 2 new photos — with Potus Polo at Chicago Transit Authority.January 12 at...
[ Read More... ]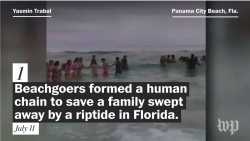 Panama City Beach, Florida, a bunch of heroes:There was no lifeguard on duty, and law enforcement on the scene had opted to wait for a rescue boat. People on the beach had no rescue equipment, only boogie boards, surf boards and their arms and legs."Form a human chain!" they started shouting. ..."That's when the chain got the biggest," Ursrey said. "They...
[ Read More... ]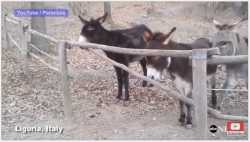 'DONKEYS HELPING DONKEYS: When a donkey struggles to get over a fence at a non-profit animal protection sanctuary in Italy, he gets a helping hoof. "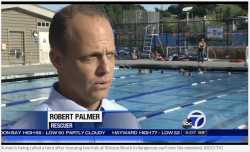 ABC News story on beach rescue by water polo coach/expert swimmer and good samaritan Robert Palmer, right on time to help boy and sister:STINSON BEACH, Calif. (KGO) --Rough waves triggered a record number of rescues at Stinson Beach in Marin County over the weekend. One rescuer was just enjoying his day at the beach, now he's being called a hero.There were 17 rescues at the beach -- 10 on Sunday,...
[ Read More... ]